---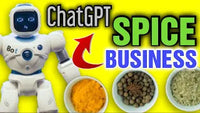 40 Chatgpt PROMPTS How to Use Chatgpt for Your Spice Business [ Full Tutorial ] Spices Business
Welcome to our detailed guide: "40 ChatGPT Prompts: How to Use ChatGPT for Your Spice Business [Full Tutorial]." This video tutorial is meticulously designed for spice business owners or entrepreneurs looking to use AI technology, particularly ChatGPT, to enhance their business operations.
In this video, we break down the concept of ChatGPT, a state-of-the-art AI developed by OpenAI, and show you how to leverage it in the realm of spice businesses. Whether you're selling spices, creating spice blends, or offering spice-based products, this video is filled with applicable and innovative content.
We kick-start the tutorial with a brief overview of ChatGPT, explaining its capabilities and potential applications in the business world, especially focusing on the spice industry.
Moving further, we delve into the heart of the video - the 40 tailor-made ChatGPT prompts for spice businesses. Each of these prompts is aimed at assisting various aspects of your business. We cover areas such as generating creative spice blend names, crafting enticing product descriptions, drafting engaging social media content, creating informative blog posts about spices, and so much more.
Each of the 40 prompts is discussed in detail with practical demonstrations, showing you exactly how to use them and adapt them to your specific needs. We also offer tips on how to tweak these prompts to get the most effective responses from ChatGPT.
Furthermore, we explore how ChatGPT can be used for market research, customer interaction, and analyzing customer feedback to help refine your offerings. Plus, there are prompts designed to assist you in managing the business side, like generating business strategies, planning marketing campaigns, or even helping with inventory management.
By the end of this vide
40 Chatgpt PROMPTS How to Use Chatgpt for Your Spice Business [ Full Tutorial ] Spices Business
o, you'll have a deeper understanding of how to use ChatGPT for your spice business and a toolkit of 40 ChatGPT prompts to help you hit the ground running. You'll be ready to take your spice business to new heights with the power of AI!
Don't forget to like, share, and subscribe for more content on how to use AI in your entrepreneurial journey. Spice up your business with ChatGPT today!