---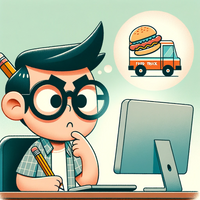 Sale
Chatgpt Prompts for Food truck Logo Design For Beginners
Introducing: The Ultimate 100 ChatGPT Prompts for Food Truck Logo Design!
🍔🌮🍕
Are you a beginner looking to craft an eye-catching logo for your food truck? Do you feel lost and don't know where to begin? Look no further! We've curated the perfect digital download that will lead you step by step to the logo you've been dreaming of.
Why are prompts crucial?
Prompts serve as creative guides. They are thought-starters that propel your imagination in the right direction, ensuring you hit the mark in capturing the essence of your food truck business. A well-crafted prompt brings out the very best in design by narrowing focus, providing inspiration, and establishing clear parameters.
Why our list of 100 ChatGPT prompts is a game-changer:
Saves Time: With a hundred prompts at your disposal, you won't waste hours brainstorming ideas. Dive straight into the design process!

Saves Money: Hiring a professional logo designer can be expensive. With our prompts, tap into the power of ChatGPT and DIY your unique logo at a fraction of the cost.

Beginner-Friendly: Specifically designed for beginners, our prompts are straightforward, guiding you seamlessly from concept to creation.

Versatile & Unique: From classic to quirky, our diverse range of prompts ensures that there's something for every kind of food truck. Your logo will stand out from the crowd!

Optimized for ChatGPT: Get the most out of your ChatGPT experience. Our prompts are tailored to work harmoniously with GPT-4, ensuring maximum creativity and efficiency.
Imagine your food truck with a logo that perfectly captures its spirit, a logo that draws crowds and makes an unforgettable first impression. Now, making that dream logo is easier than ever!
✨ Invest in your brand today! With our list of 100 ChatGPT prompts, you're not just buying a list; you're investing in the future success of your food truck. Ready to start designing? Grab your digital download now! 🚚🎨